Alzheimer's & Dementia Care at Home
Home care enables you or your loved one to continue living in the comfort of home with assistance from a qualified home care provider. We respect the many factors and careful thought that go into making decisions for the wellbeing of your loved one. Our team draws on personal and professional experience, working diligently to develop a personalized plan of care for your loved one. We are not just in the business of providing home care but helping you explore all the options to best suit your situation.
Clear Path Home Care offers a unique Total Care Management system to optimize each client's happiness and wellbeing. A dedicated care manager is assigned to each client to provide maximum accountability. The care manager will be a constant, personal contact for the client and their caregiver. Our Total Care Management system is designed to ensure comfort and peace of mind for our clients and their families.
Has your loved one recently been diagnosed with Alzheimer's disease or another form of dementia?  Are you wondering if, or how long, they can live at home? Perhaps your loved one's Alzheimer's disease is progressing to the point where you can no longer care for them by yourself.
Either way, Alzheimer's and dementia home care can help your loved one age in place and bring you peace of mind that they will be kept safe.
How long can a person with dementia live at home? 

How do you care for Alzheimer's patients at home? 

How can you tell if your loved one needs Alzheimer's home care? 

How can you find the best dementia home care near you?
How Long Can a Person With Alzheimer's Disease Live at Home?
With the right type of assistance, people with Alzheimer's disease and other forms of dementia may be able to live at home for the rest of their lives. They may need up to 24-hour care to prevent wandering or other potentially dangerous behaviors. As long as a caregiver is around to keep an eye on them, make sure they are eating enough, handle light housekeeping and other tasks they can stay at home safely.
How Do You Care for an Alzheimer's Patient at Home?
Caring for dementia patients at home involves making sure their physical and emotional needs are met while keeping them safe from things like wandering, leaving the stove on, or forgetting to take important medications. Alzheimer's home care often involves things like companionship, medication reminders, bathing, toileting, meal planning and preparation, transportation to appointments, and more.
Read the kind words from previous clients. Our testimonials and reviews show how dedicated we are to customer satisfaction.
Looking for top-notch home care services? Our skilled and dedicated leadership team has been working in the field since 2013. Click to learn more.
Top Alzheimer's & Dementia Care at Home in 75 Counties in Texas.
Can a Person With Alzheimer's Live at Home?
Caring for a parent with dementia at home can be difficult, but it isn't impossible, especially when you bring in professional, caring Alzheimer's caregivers. Caring for a loved one with dementia at home involves keeping them safe and ensuring their needs are met.
What Types of Services Are Included With Alzheimer's Home Care?
Services you will typically receive with Alzheimer's and dementia home care may include:
Wandering prevention

Meal planning and preparation

Medication reminders

Managing moments of anger, anxiety, or confusion

Grocery shopping and prescription pickups

Laundry and light housekeeping

Transfer and mobility assistance

Transportation to appointments

Help with bathing, dressing, grooming, and toileting

Monitoring and companionship
Although we've listed it last, companionship is hardly the least important Alzheimer's home care service. In fact: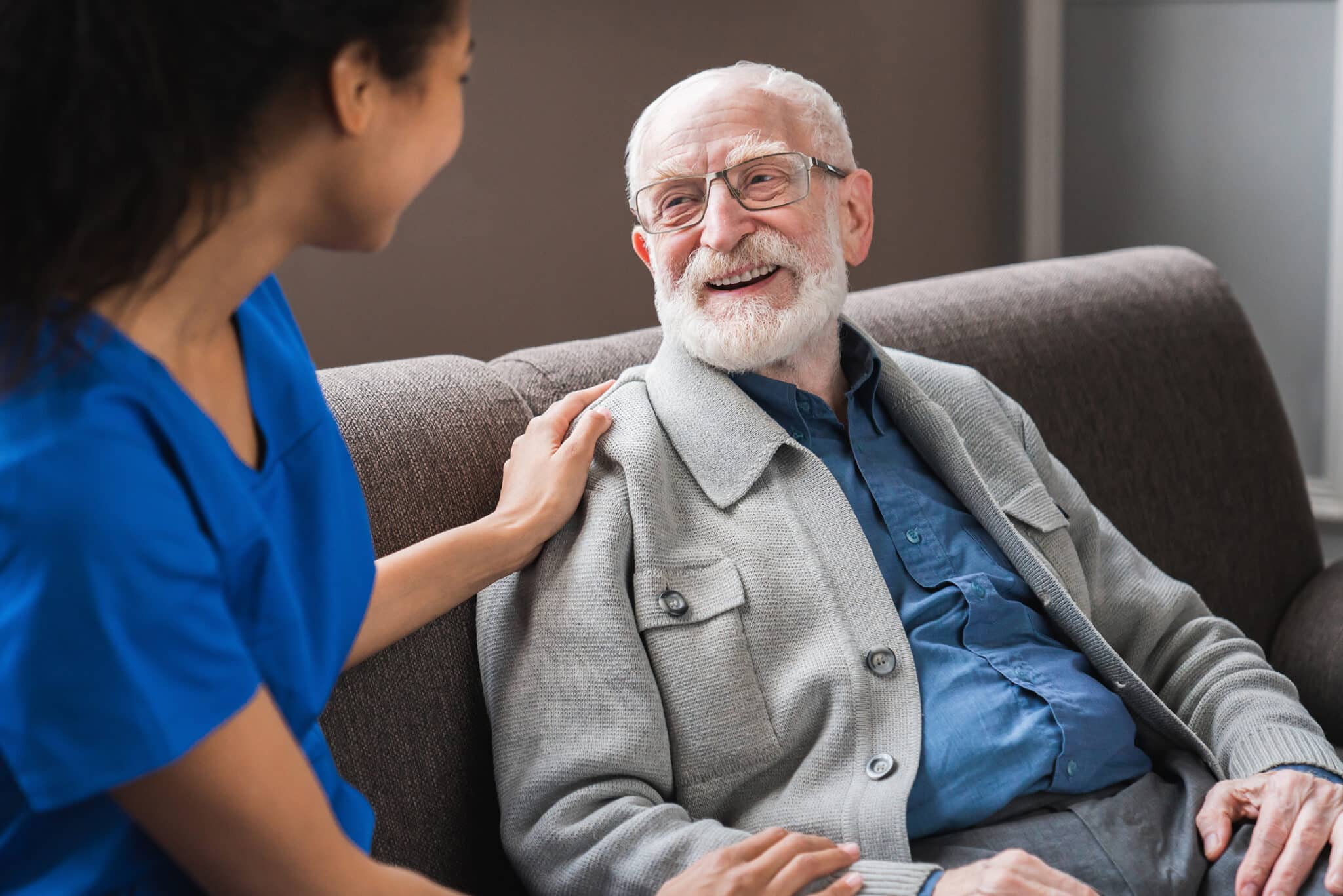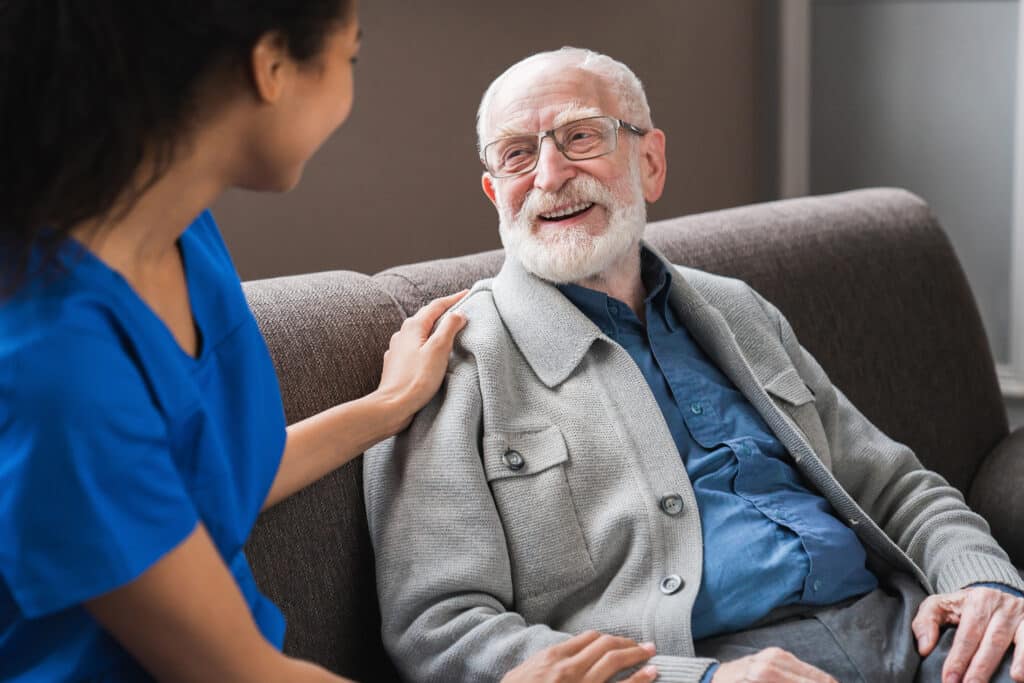 How Can I Tell if My Parent Needs Dementia Care at Home?
The short answer is that it's never too early to bring in Alzheimer's home care for your parent or other loved one. If you need a more concrete answer, look for these signs it's time for memory care [3]:
Disorientation or confusion

that puts their safety at risk, such as wandering on foot or driving after they've lost their license

Behavior changes

, such as failing to keep up with personal hygiene, declining social invitations, or becoming withdrawn

Incontinence

, which can be overwhelming for family members to handle on their own

Decline in physical health

such as unexplained weight gain or loss, falls, or health issues caused by taking too much or too little of their prescription medications

A caregiver's death or deterioration

may require bringing in outside help
Centers for Disease Control and Prevention, Loneliness and Social Isolation Linked to Serious Health Conditions, https://www.cdc.gov/aging/publications/features/lonely-older-adults.html

National Insitute on Aging, Getting Help with Alzheimer's Caregiving, https://www.nia.nih.gov/health/getting-help-alzheimers-caregiving

Ruben Castaneda, 5 Signs It's Time for Memory Care, https://health.usnews.com/wellness/articles/signs-its-time-for-memory-care

WebMD, Help With in-Home Care for Someone With Alzheimer's, https://www.webmd.com/alzheimers/alzheimers-paid-home-care

 
Learn more About Us and what sets us apart from the rest. Our mission, values and training have allowed us to shine above the rest.
How Can I Find the Best Alzheimer's Home Care Near Me?
Although finding the right Alzheimer's home care agency may seem like a daunting task, it's not one you want to rush through. Here are some questions you should ask each agency to help you find the one that will best meet the needs of your loved one [4]:
Do you have a designated Alzheimer's/Dementia specialist?

Do you screen caregivers?

Are your caregivers insured and bonded?

Do you do thorough background checks before hiring a caregiver? 

Do you also check their driving record?

What is the turnover rate of your caregivers?

Do you handle all the payroll paperwork?

What are the education requirements of your caregivers?

Do you provide continuing education for your caregivers?

Will we have the same caregiver for each visit?

Do we have a say in who is assigned to us?

What happens if our caregiver can't make it? Do you provide a substitute caregiver? 

What happens if I have a complaint about a caregiver?

How does the agency handle conflict?

How do you supervise caregivers?
If you're looking for the perfect dementia care at home provider, contact us today.
Ready to get started? Let's find an office near you and we will match you with the best home care service professional.